Earth Day Marin Songwriting Contest — http://www.earthdaymarin.org/contest.html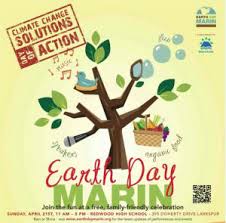 Earth Day Marin, the event which is being heldon April 6th (11am – 5pm) at Redwood High School in Larkspur is holding a songwriter's contest.
Here are some of the approved themes:
Turn people around on climate change
Help California make it through the drought,
Protect animals,
Encourage use of public transit,
Use renewable energy,
Ride your bike or walk
Purchase organic, local and sustainable food,
Reduce pollution,
Make an impact against fracking,
Save wild open spaces,
or address any environmental issue under the sun….
You will perform at the Marin Earth Day event if selected.
To submit your song, you must register online. There is a $20 fee.
Each song must be contestant's original work.
No song previously recorded and released through major national distribution in any country will be eligible.
Songs may have multiple co-writers, but please designate one name only on the application.
Contestants may submit additional songs, but each entry requires a separate CD, entry form, lyric sheet and entrance fee.
Entrance fee is non-refundable
We are not responsible for late, lost, damaged, misdirectred, postage due, stolen or misappropriated entries.
Send us your Music  [mailto: info@westcoastsongwriters.org                                                       AND hannah@earthdaymarin.org] –
Please put your NAME and EARTH DAY SONG CONTEST in the Subject.
You may submit CDs containing one song only, five minutes or less in length
Please enclose a Lyric Sheet, typed or printed legibly (Please include English translation, if applicable) with each entry. Contestants may submit any digital file, any YouTube video to the email links above with a lyrics sheet. OR Contestants may mail a CD with only one song and a lyrics sheet. Must be postmarked 3/31 and mailed to: West Coast Songwriters , 1724 Laurel St., Suite 120, San Carlos, CA 94070
– See more at: http://earthdaymarin.org/#sthash.Mhkq7dnN.dpuf