Want to volunteer with us? Gain valuable experience and learn the basics of computer repair.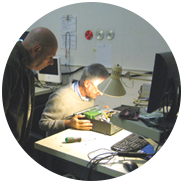 Volunteer Opportunities
We're always looking for volunteers to help us sort electronics. While helping us with this vital operation, you can learn how to identify various types of electronic equipment. Don't worry, you don't have to know anything about computers. With Volunteer opportunities like this you'll learn why they break and how to fix 'em; identify computer parts, pieces, bits, and doodads. You can also discover our installed operating system online: Xubuntu.