Charles Ostertag Leaves Board
With a fond farewell, CTRC said goodbye to its Board Member Charles Ostertag recently at a presentation at Jackson Cafe, a restaurant in the Whistlestop Building in San Rafael. The event was attended by Treasurer George Shea, and another Board  member, Steven Petker.
Carl Macki, CTRC's Secretary, presented Charles with a plaque.
It was good that Board Member Steven Petker joined us.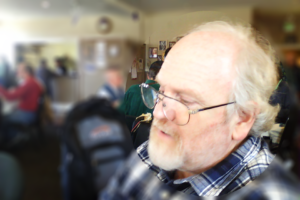 This is what the plaque looks like.
Charles has served on our Board since 2014.  He is an attorney with a law practice named Alamere Law. We wish Charles well in his endeavors as a solo practicing attorney in the Bay Area.
The following is taken from Charles' website — http://alamerelaw.com:
"Established in Marin County in 2013, Alamere Law is a comprehensive civil litigation firm. Our mission is to foster life-long relationships with our clients based upon exemplary legal services. Accordingly, our practice revolves around one thing–our clients–and providing them with precision, passion, and perspective in representation.
"Our main practice areas include:
Tenants' rights
Eviction defense
Affirmative cases on behalf of tenants
Personal injury
General civil litigation
"Alamere Law serves international clients, clients throughout California, and those close to home in the counties of Marin, Sonoma, Napa, Alameda, Contra Costa, San Francisco, San Mateo, Solano, Yolo, and Sacramento."