Earth Day: Happy Earth Day! April 22nd! For CTRC, Every Day Is Earth Day!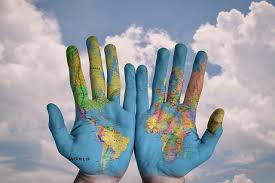 Remember — On Earth Day and every other day that we are open, you can drop off e-waste for free! And Berkeley residents get free pickup!
"It was first celebrated in 1970, and is now coordinated globally by the Earth Day Network,[1] and celebrated in more than 192 countries each year.[2]
"Earth Day was founded by United States Senator Gaylord Nelson as an environmental  teach-in first held on April 22, 1970.
Nelson was later awarded the Presidential Medal of Freedom Award in recognition of his work.[3]
"While this April 22nd Earth Day was focused on the United States, an organization launched by Denis Hayes, who was the original national coordinator in 1970, took it international in 1990 and organized events in 141 nations.[4][5]
"Numerous communities celebrate Earth Week, an entire week of activities focused on environmental issues."